MONTHLY DINNER MEETING
Chaparral Country Club
1260 Mohave Drive
Bullhead City
Speaker: Mayor Tom Brady and City Manager Toby Cotter
Date:May 10th, 2017
Social Hour:6:00pm
Dinner served at 6:30pm sharp! Cost is $15.00 per person
DID YOU KNOW???? — Bring 1 ream of paper for a FREE 50/50 Ticket! Donation benefits the Academy of Building Industries
*REMINDER* – RESERVE ONLINE
Please note: We pay for all meals ordered. Once you have made your reservation, you will be charged for your dinner even if you do not attend.
---
PRESIDENT'S CORNER

I can't believe it's summer already but it is. Harbor Freight is open, Dot Foods is under construction, Mohave Crossroads has a new owner. Discount Tires has announced a new store in Bullhead. Walmart on the mesa is nearing completion. In short, the recession at long last is over and our area is definitely on the rebound. It has been a long time coming but what a relief that it is now here. New significant projects are being
announced on a weekly basis so if we can find an adequate workforce we should all be
fine for the for seeable future.
The guest speakers at our May 10th dinner meeting will be Mayor Tom Brady and City Manager Toby Cotter. They will be speaking about new projects in Bullhead City, this
years proposed budget and many other important concerns for our area. This is also the opportunity for you to express any concerns you have with the City Building Department or the service you are getting from the city. This is your chance to air your desires and concerns plus be aware of changes that may impact you and your business.
Make your dinner reservations with John Caponetto now while you are thinking about it.
See you Wednesday Night.
Larry D. Adams
Vice President
---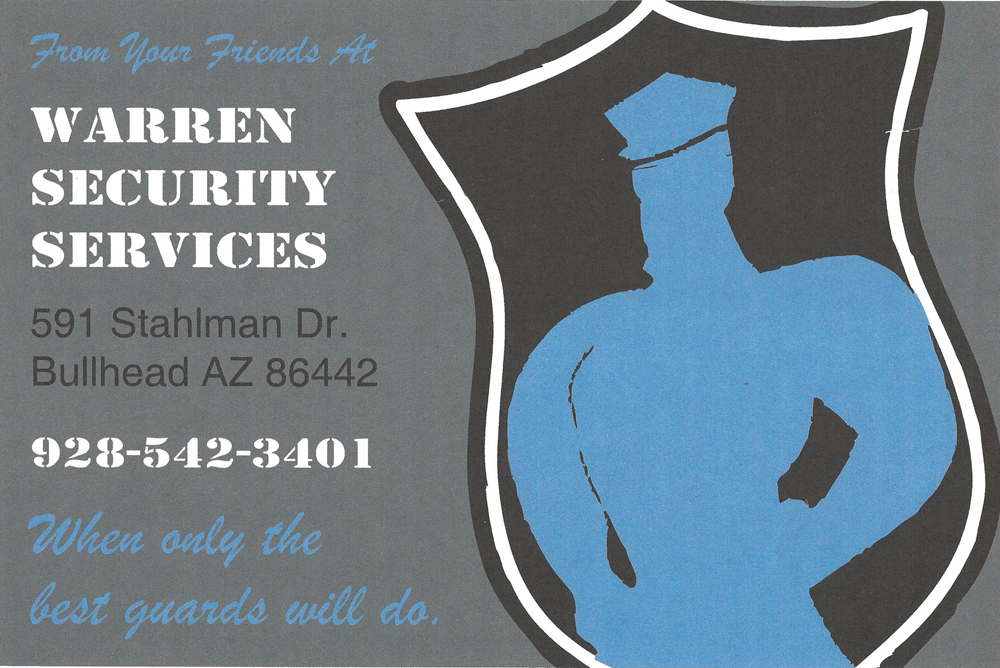 Visit mvcaaz.org to view our animated ads!
Advertising opportunities are available on our MVCA website. Rates: $25.00 per month; $300.00 per year. Ad size: 125×125. Supply your ad, or one can be designed for you. For more details, contact a board member today.
---

Visit our FACEBOOK page!
---
Call To Order
The regular meeting of the Board of Directors was held on Tuesday, April 11, 2017, at Scooters, 2750 Miracle Mile, Bullhead City, AZ.  The meeting was called to order at 12:00 p.m., by President Larry Adams.    
Attendees
President Larry Adams, Treasurer Steve Bouman, Secretary John Caponetto, Directors Steve Ramsey and Catherine Lopez-Rajaniemi.   Absent :  Directors Kim Camacho, Keith Parker, and Jim Underwood.  
Minutes
President Adams said the Board Minutes were fine.  No approval needed as there was no quorum.
Treasurer's Report
Treasurer Bouman reported on the Treasurer's Report.  President Adams asked for a motion to approve the Treasurer's Report.    There was discussion regarding paying back deposits for vendors.  Director Ramsey made a motion to approve the Treasurer's Report, and Secretary Caponetto seconded the motion.  All were in favor.  Motion passed.  
Old Business
President Adams recapped the Home Show.  Discussion was held regarding the excess carpet that was bought.   Question was brought up whether to donate it. President Adams discussed the bill from Mike Price Plumbing.  After a short discussion, everyone agreed to pay the bill.  The bill for Clear Circuit was for $1,000. Everyone agreed to pay it.  Bill for Epcor Water was for $87.24.  Everyone agreed to pay it.  The Florist bill for Kelly was for $91.67.  Everyone agreed to pay it.
Newsletter
President Adams said that this is not working.  We need to find an economic way to get labels done and stuff the Newsletter to mail out.  We won't get attendance if no one knows what is going on.  We have to get information out there.  We need to talk to Tom Gallant.  Secretary Caponetto said he could do the mailing labels.
Membership
President Adams said they received a membership form from Marc Goldstone.  No one nominated him for membership.  
New Business
Secretary Caponetto said he had sent an e-mail to then President Bastyr on February 17th regarding a lady who wanted a handicap ramp built.  He said he does not know if Rick handled it.  Secretary Caponetto said he does not know whether anyone else did anything with this request.  Director Lopez-Rajaniemi said she would get in touch with Mike Connor to see if this has been done.  She said that there were a lot of people that wanted to help with this request.  
Where To Retire
President Adams said that they had 45 responses to our advertisement.  He said we need to get envelopes with the Mohave Valley Contractors Association name on them. Director Lopez-Rajamiemi said she may get them at a good price.  We need to look into this.  
Adjournment
President Adams asked for a motion to adjourn.  Director Ramsey made a motion to adjourn the Board Meeting, and seconded by Director Lopez-Rajaniemi.  All were in favor.  Meeting adjourned at 12:56 p.m.
Respectfully submitted,
Laura L. Harrison
April 15, 2017