MONTHLY DINNER MEETING
Chaparral Country Club
1260 Mohave Drive
Bullhead City
Guest Speaker(s): Peggy with MEC
Date: September 11th, 2013
Social Hour: 6:00pm
Dinner served at 6:30pm sharp! Cost is $15.00 per person
DID YOU KNOW???? — Bring 1 ream of paper for a FREE 50/50 Ticket! Donation benefits the Academy of Building Industries
*REMINDER* – RESERVE ONLINE
Please note: We pay for all meals ordered. Once you have made your reservation, you will be charged for your dinner even if you do not attend.
---
PRESIDENT'S LETTER

WOW!! Did you see that? Did you see that flash go by? Do you know what that was? It was Summer. It just flew by. The year is coming to a close and there are still so many irons in the fire.
Section 12 is a huge issue for our community. There are more and more citizens coming forward with their objections and the recent flaws found in the way the city has been handling these issues is staggering. If they can't get a letter or number correct on motion, how can we trust them with the big decisions. I believe this issue is far from over and I'm positive Larry will keep us up to date.
The committee formed, for Mohave County, to review the 2012 building codes voted last month to NOT recommend changing to the 2012 codes. They are, however, going to make a few recommendations to add a few of the codes which pertain to our area. This is a much better way to handle this situation. They are meeting on September 18 @ 3:00 in Kingman to apparently revise the wording of the motion that was made and voted on last month. Lets hope they are true to their word and stick to the game plan.
The Christmas party is a few months away and most of the arrangements have been made and we are now in the process of seeking donations for the drawings. Remember, there are just over 100 days of shopping left before Christmas is here. Don't put it off until the last moment. Oh, and just an FYI, I wear a size large shirt and like anything to do with power tools. Just saying.
We will be gearing up for our next Home and Garden show in the next few months. We are always looking for help and ideas. If you would like to be on the committee or just have an idea to share let one of your board members know. Last years event was very successful and we hope to grow from those experiences.
I hope to see all of you on Wednesday September 11@ 6:00 for our dinner meeting. Peggy from MEC is our guest speaker. Don't forget to RSVP on line to get a chance to win next months dinner. And a ream of paper donated to the school will get you an extra ticket in the 50/50 drawings.
President Rick Bastyr
---




Visit mvcaaz.org to view our animated ads!
Advertising opportunities are available on our MVCA website. Rates: $25.00 per month; $300.00 per year. Ad size: 125×125. Supply your ad, or one can be designed for you. For more details, contact a board member today.
---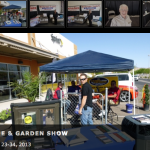 Visit our GALLERY page with photos from our 2013 Home & Garden Show!
If you have photos you would like included on our website, please email them to atrre@ctaz.com. Thank you!
---
BOARD LUNCH MEETING – August 13, 2013
Call to Order
The regular meeting of the Board of Directors was held on Tuesday, August 13, 2013, at Scooters, 2750 Miracle Mile, Bullhead City, AZ. The meeting was called to order at 11:51 a.m., by President Rick Bastyr.
Attendees
President Rick Bastyr, Vice President Larry Adams, Treasurer Steven Bouman, Secretary John Caponetto, Scott Merrill, Darryl Connella, Steve Ramsey, Catherine Lopez-Rajaniemi, and Kim Camacho.
Treasurer's Report
Treasurer Bouman reported on the current Treasurer's Report to the Board. President Bastyr asked for a motion to approve the Treasurer's Report. Director Connella made a motion to approve the Treasurer's Report, seconded by Director Merrill. All were in favor. Motion passed.
Minutes
President Bastyr asked if everyone had read the July Board Minutes. He then asked for a motion to approve the July Board Minutes. Vice President Adams made a motion to approve the Minutes for the July Board Meeting, and the motion was seconded by Director Connella. All were in favor. Motion passed.
Old Business
President Bastyr reported that the Speakers we had last month at the Board Meeting were not going to be Speakers at the General Meeting and will be postponed indefinitely. Director Lopez-Rajaniemi reported to the Board what the Chamber of Commerce is doing with regard to Dr. Sam Quamar, MedLion Direct Primary Care, and the talks taking place with Western Regional Medical Center regarding the same health plan. She said that the Chamber of Commerce is tabling this for now until after the Health Care Reform takes place.
President Bastyr reported that there will be a meeting in Kingman, Arizona, on Wednesday, August 14, 2023, regarding adopting the Building Codes 2012. Vice President Adams will be at the meeting and hopes that others will attend.
Director Ramsey, who is temporarily taking the place of Director Grasse, asked President Bastyr if he had voting rights, and he said yes.
Section 12
President Bastyr asked Vice President Adams to report on Section 12. Vice President Adams reported to the Board the steps he will be taking regarding Section 12. The first step will be sending his report to the Attorney General. He also talked about some individuals who have a petition to pull the referendum.
"Where To Retire"
Vice President Adams said he received 180 mailing labels from the "Where to Retire" magazine to put on our brochures and mail out. He also said that they needed little tabs to put on the brochures before they are sent out. Chris Barton, of the Chamber of Commerce, is allowing the Mohave Valley Contractors Association to use their postage meter. He asked for volunteers to put the mailing labels and tabs on the brochures. Director Camacho said she would put the mailing labels and tabs on the brochures and get them ready for bulk mailing.
Chamber of Commerce Building
President Bastyr asked Director Lopez-Rajaniemi for an update on the Chamber of Commerce Building. She said she hasn't had much time to put on this. She did say that the work for the deck has been approved. They are just waiting for good weather. She mentioned that Jim Dykens has a problem with the deck. Director Merrill said that the Matadors have agreed to put in a new deck and flooring and that they got a new air conditioner for the building. Secretary Caponetto asked if anyone has prioritized the list. Director Lopez-Rajaniemi said no. They have to do the roof first. She also said that they need to hold a fund raiser so that they can have a building fund. Vice President Adams said he felt that the roof should be prioritized first.
Guest Speaker
President Bastyr said that hopefully they will have Peggy Gilman and maybe Tyler Carlson of Mohave Electric Cooperative, for next month's Speaker(s).
Safety Committee Meeting
Vice President Adams said we can meet the Safety Committee Meeting requirements by showing a safety movie. Discussion was held that the members of the SCF should be at the Safety Committee meeting. Our Safety Representative should also be at the meeting. A motion was asked for that Director Merrill get a safety film from SCF. Vice President Adams made a motion that Director Merrill get a safety meeting film from SCF, seconded by Treasurer Bouman. All were in favor. Motion passed.
President Bastyr talked about a speaker for November. We don't need a speaker for December as we are having the Christmas dinner. He asked the Board members to think about speakers for next year.
Home Show
President Bastyr said we need to think about having one and we need to reserve our spot again for next year. We will set up a meeting next month to discuss this.
Treasurer Bouman talked about deregulation that happened 15 years ago, and that the electric companies in Arizona are talking about deregulation and if it passes. He passed out a Co-op Electric Restructuring Petition for the Board to look at and hopefully fill out and send them to the five commissioners of the Arizona Corporation Commission. He will be bringing this up at the General Meeting tomorrow night.
Treasurer Bouman showed the Board members a check for $1360 from PIPE ROC.
Motion To Adjourn
President Bastyr asked for a motion to adjourn. Director Connella made a motion to adjourn, seconded by Vice President Adams. All were in favor. Motion approved. Meeting adjourned at 1:09 p.m.
Respectively submitted by
Laura L. Harrison
August 14, 2013
---

SCF's e-zine Newsletter
Sharing practical workplace safety tips
Keeping employees safe from on-the-job injuries is the best way to control your workers compensation insurance costs. To help you do that, SCF Arizona has a library full of downloadable safety information including streaming SafetyNet videos. These quarterly newsletters are designed to target different aspects of safety that are relevant to your industry. Select the one in your field, or read them all.
In addition, SCF Arizona invites you to visit our blog, where you will find columns, advice and articles written by experts focusing on human resources, legal compliance issues, workplace safety, workers compensation insurance and more. Our blog is designed with you in mind, to put the latest news and resources you need, in one easy to find place.
SCF Arizona …at work for you.