MONTHLY DINNER MEETING
Chaparral Country Club
1260 Mohave Drive
Bullhead City
Guest Speaker(s): None
Date: August 14th, 2013
Social Hour: 6:00pm
Dinner served at 6:30pm sharp! Cost is $15.00 per person
DID YOU KNOW???? — Bring 1 ream of paper for a FREE 50/50 Ticket! Donation benefits the Academy of Building Industries
*REMINDER* – RESERVE ONLINE
Please note: We pay for all meals ordered. Once you have made your reservation, you will be charged for your dinner even if you do not attend.
---
PRESIDENT'S LETTER

You know the old saying, "When it rains, it pours." Well the past few weeks have been a tsunami. Between the county wanting to change to the 2012 building codes and Bullhead City pushing through on section 12, I don't think there is enough aspirin in the state for my headache. I'm not sure how Larry does it.
I'm not a genius by any means. However, I do believe I have enough common sense to realize the difference between "Want" and "Need". The committee studying the changes for the county have been reviewing the significant changes and have made a few changes to their liking. They WANT to be like everyone else. What they NEED to do, is provide a reasonable explanation as to why it should be changed. Just because other municipalities are making the switch does not mean it is good for Mohave County. I have been to 2 of the last 3 meetings. This committee continues to discuss what changes to make to the codes, which ones to delete and leave the rest alone. I have heard no discussion from them about why! The Building Official says he wants all the codes the same. Meaning 2012 for Residential, Commercial, property maintenance, Fire Codes, etc. They could have saved everyone a lot of time and just adopted a couple of the important changes, if there are any. Bullhead City officials have said they do not see adopting the new codes in the near future. Between the costs of books and training, it doesn't warrant any changes. The next meeting is Wednesday August 14 at 3pm in Kingman. We could use a few more bodies there as this will be the last meeting before they recommend it to the P&Z.
And then you have Bullhead City and section 12. They WANT you to believe they know what's best for us. They WANT us to think that everything is right and legal. The new amended contracts came out late Friday August 2. City council voted on them the following Tuesday. I guess that's ok if your trying to hide something from the public. What they NEED is to remember they are our elected officials. Jack Hakim stated during the council meeting that they were elected by the voters and the voters are trusting them to do what's right. Well Jack, politicians can say what ever they need to to get elected. Remember, a majority of the people voted for Obama, twice. How's that working out for everyone?
I am sure there will be plenty of discussion on these two topics so we will not have a guest speaker this month.
Ok, I need to go find more aspirin. I look forward to seeing all of you on Wednesday August 14 at 6pm. Remember to RSVP your dinner reservations so you can be in the drawing for next months dinner meeting.
President Rick Bastyr
---




Visit mvcaaz.org to view our animated ads!
Advertising opportunities are available on our MVCA website. Rates: $25.00 per month; $300.00 per year. Ad size: 125×125. Supply your ad, or one can be designed for you. For more details, contact a board member today.
---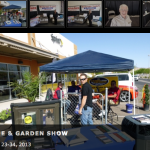 Visit our GALLERY page with photos from our 2013 Home & Garden Show!
If you have photos you would like included on our website, please email them to atrre@ctaz.com. Thank you!
---
BOARD LUNCH MEETING – July 9, 2013
Call to Order
The regular meeting of the Board of Directors was held on Tuesday, July 9, 2013, at Scooters, 2750 Miracle Mile, Bullhead City, AZ. The meeting was called to order at 11:49 a.m., by President Rick Bastyr.
Attendees
President Rick Bastyr, Vice President Larry Adams, Treasurer Steven Bouman, Directors Catherine Lopez-Rajaniemi, Darryl Connella and Kim Camacho. Absent were Secretary John Caponetto, Directors Scott Merrill and Don Grasse. Guests: Chris Barton and Gary Arfons.
Guest Speakers
President Bastyr introduced the guest speakers to the July's Board Meeting. They were from the LMG Consulting firm, Ms. Camelia Scott, and Tim. They said that they had been on talks with the Chamber of Commerce in their taking on this plan for their members. They discussed their healthcare program at LMG Consulting. They discussed the affordable health care. They then introduced Dr. Sam Qamar, who explained about MedLion Direct Primary Care, commonly referred to as MedLion, which is an emerging, rapidly growing medical practice model that is changing American healthcare. MedLion covers primary medical care. Then Mr. Frazer spoke about The Keiser Group and their healthcare reform. He spoke about several plans, including some that would maybe cost $200 or a family plan up to $500. Director Lopez-Rajaniemi asked Mr. Frazer about specific costs. Later on, Vice President Adams said that he started figuring certain things about their plan, and their need to have a least 900 members for their plan, and he said that if they had 900 members, they would make around $650,000 a year. Dr. Quamar said that was about right.
President Bastyr thanked them for their presentation and said it was well done. After they left, President Bastyr asked the Board, do we want them to come to next month's dinner meeting to present the same speech to our members? The Board said yes, but in an abbreviated time frame. Vice President Adams made a motion to have the LMG Consulting firm come to the dinner meeting next month. Director Lopez-Rajaniemi seconded the motion. Discussion was held, then Vice President Adams amended his motion to have Directors Lopez-Rajaniemi and Camacho to meet with LMG Consulting and MedLion and ask them to make a shorter presentation than this one. Director Connella seconded the amended motion. All were in favor of the amended motion. Motion approved.
Treasurer's Report
Treasurer Bouman reported on the current Treasurer's Finance Report. President Bastyr asked for a motion to approve the Treasurer's Report. Vice President Adams made a motion to approve the Treasurer's Report, seconded by Director Connella. All were in favor of the motion. Motion approved.
Minutes
President Bastyr asked if everyone had read the June Board Minutes. President Bastyr asked for a motion to approve the June Board Minutes. Vice President Adams made a motion to approve the Minutes, and Director Connella seconded the motion. All were in favor. Motion approved.
Section 12
President Bastyr asked Vice President Adams about the meeting regarding Section 12 that he attended and asked if there were things he wanted to comment on. Vice President Adams said that he finally got a draft of the agreement between the City and Land Liquidators, LLC. He said that there were around 70 pages of the agreement and not sure that anyone on the City Council has read all of it. He said he had sent copies of the agreement to some attorneys to get their input, but hasn't heard from any of them. A lot more questions were raised while reading it. He is not very happy with some of the items that is in the agreement.
They discussed the County's wanting to change to the 2012 Building Codes. The meeting dates are as follows: July 17th, July 31st, and August 14th. All of the meetings will start at 3:00 p.m., in Kingman. The more unified, we are the better.
Motion To Adjourn
President Bastyr asked for a motion to adjourn. Director Connella made a motion to adjourn and it was seconded by Director Lopez-Rajaniemi. All were in favor. Motion passed. Meeting adjourned at 1:45 p.m.
Respectively submitted by
Laura L. Harrison
July 9, 2013
---


Lockout/tag-out protects workers from hazardous injuries, death
A sudden blast of steam, a jolt from an electrical short or a burst of stored mechanical energy can cause serious injuries and even death to machinery workers when lockout/tag-out safety procedures are not followed.
Hazardous energy, as the Occupational Safety and Health Administration (OSHA) calls it, is the danger that lurks when workers are performing maintenance and service tasks on machinery or equipment.
According to OSHA, some 3 million craft workers, machine operators and laborers service equipment and face the greatest risk of hazardous energy. OSHA has a standard for employers to follow. These procedures allow employers to create an energy control program tailored to the needs of a particular workplace or task, taking into account the machinery or equipment that is to be maintained or serviced.
Generally, appropriate lockout or tag-out devices must be applied to devices that isolate energy, thereby de-energizing machines or equipment. To comply with OSHA's standard, employers need to develop, implement and enforce an energy-control program. Optimally, durable, standardized and substantial lockout devices should be used on equipment that can be locked out.
If lockout is not available, tag-out devices can be used, as long as they provide equal protection to employees. These safety devices must identify individual users, and an energy control program should allow only the employee who applied a lockout/tag-out device to remove it.
Energy controls also apply to new or overhauled equipment that is capable of being locked out. Iflockout devices are unavailable for machines or equipment, an effective tag-out program should be developed, implemented and enforced.
Documentation is a critical part of an effective lockout/tag-out program, as are annual inspections to ensure energy control devices are durable, standardized and substantial.
OSHA says employers need to ensure their workers know, understand and follow the steps in a lockout/tag-out program to control hazardous energy. Employee training should cover:
• Aspects of the energy control program
• Elements of the energy control procedure and how it relates to the worker's duties or assignment
• The various requirements of the OSHA standard related to lockout/tag-out
OSHA has developed an interactive lockout/tag-out training program that includes a tutorial, hot topics and case studies. Control of Hazardous Energy, Lockout/Tagout is a downloadable e-book from OSHA.
SCF Arizona also offers a free work safety training card and poster on lockout/tag-out; visit scfaz.com to order using our Safety Material Order Form.