MONTHLY DINNER MEETING
Chaparral Country Club
1260 Mohave Drive
Bullhead City
Guest Speaker: Tami Ring
Bullhead City Council member
Date: June 12th, 2013
Social Hour: 6:00pm
Dinner served at 6:30pm sharp! Cost is $15.00 per person
DID YOU KNOW???? — Bring 1 ream of paper for a FREE 50/50 Ticket! Donation benefits the Academy of Building Industries
*REMINDER* – RESERVE ONLINE
Please note: We pay for all meals ordered. Once you have made your reservation, you will be charged for your dinner even if you do not attend.
---
PRESIDENT'S LETTER

Well it has been one year since I was forced… I mean elected as President of the association. It's been a pretty good year I think. We defeated the sales tax increase, started a yearly home show and now are looking forward to helping the Chamber of Commerce with their task of rehabilitating their building. Hopefully we can lend a hand in this upcoming project.
You need to be at the dinner in order to cast your vote or, in most cases, decline the nomination. All positions are open on the board and are open for nominations. Being on the board does not require a lot of your time. Usually a few hours a month. The home show and Christmas party probably take up the most time. As with anything else you only get out what you put in to it.
Don't forget to RSVP online for a chance to win next months dinner. Last month Jeremy from Branson Door & Sash was the lucky winner and will be enjoying the best meal of his life… A free one.
And keeping with the election theme, I have invited newly elected Bullhead City Council member Tami Ring. If you recall, Tami was the only candidate who vocally spoke up against the sales tax increase and stands behind small
businesses.
So mark your calendars for 6pm on Wednesday June 12th and come vote for your board of directors and lets take this association to the next level.
And don't forget to RSVP online.
President Rick Bastyr
---




Visit mvcaaz.org to view our animated ads!
Advertising opportunities are available on our MVCA website. Rates: $25.00 per month; $300.00 per year. Ad size: 125×125. Supply your ad, or one can be designed for you. For more details, contact a board member today.
---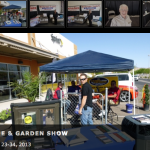 Visit our GALLERY page with photos from our 2013 Home & Garden Show!
If you have photos you would like included on our website, please email them to atrre@ctaz.com. Thank you!
---
BOARD LUNCH MEETING – May 7, 2013
Call to Order
The regular meeting of the Board of Directors was held on Tuesday, May 7, 2013, at Scooters, 2750 Miracle Mile, Bullhead City, AZ. The meeting was called to order at 12:01 p.m., by President Rick Bastyr.
Attendees
President Rick Bastyr, Vice President Larry Adams, Treasurer Steven Bouman, Directors Don Grasse, Catherine Lopez-Rajaniemi, Steve Ramsey, and Kim Camacho. Absent were Secretary John Caponetto and Director Darryl Connella.
Treasurer's Report
Treasurer Bouman reported on the current Treasurer's Finance Report. President Bastyr asked for a motion to approve the Treasurer's Report. Director Grasse made a motion to approve the Treasurer's Report, seconded by Director Ramsey. All were in favor of the motion. Motion approved.
Website
President Bastyr told the Board that he will be working on the website.
Membership
President Bastyr reported that they received an application for membership from Craig Plumbing Contractors. They don't want to belong to SCF, just to be a regular member. Vice President Adams made a motion to accept their application for membership, and Director Ramsey seconded the motion. All were in favor. Motion passed.
Old Business
Vice President Adams reported on the City's Section 12 plans. He said that the City still has not given any information on the agreement between the City and Land Liquidators LLC. Neil Young of the Mohave Daily News has requested information on this through Public Record Request at the City and has yet received any information. One of the biggest question is does the City owned the Chamber of Commerce Building, and if so, where is the documentation stating this. The City is meeting with Bureau of Land Management representatives on Thursday to discuss Section 12, and we are still waiting to see if BLM will approve the development agreement between the City and Land Liquidators LLC for Section 12.
Vice President Adams also reported on the Economic Recovery Committee and its goals.
Minutes
President Bastyr passed out copies of the April Board Minutes and everyone took a few minutes to look them over. President Bastyr asked for a motion to approve the April Board Minutes. Director Ramsey made a motion to approve the Minutes, and Treasurer Bouman seconded the motion. All were in favor. Motion passed.
Director Lopez-Rajaniemi reported that the promoter Harvey called her, and was quite rude, because he wants the MVCA to support his Home Show in Laughlin. It was discussed and everyone agreed that the MVCA is not interested and President Bastyr said no, we are not doing it.
New Business
Vice President Adams reported that he paid Tom Gallant of Around the River $100 to have several thousands of the "Moving to Bullhead City" brochures inserted into the May 2013 issue of Around the River Real Estate Magazine for distribution in Southern California.
Elections
President Bastyr reported that Elections will be coming up next month. Director Ramsey said he would step down if someone else wanted to be elected to the Board.
Motion To Adjourn
President Bastyr asked for a motion to adjourn. Vice President Adams made a motion to adjourn and it was seconded by Director Ramsey. All were in favor. Motion passed. Meeting adjourned at 12:35 p.m.
Respectively submitted by
Laura L. Harrison
May 7, 2013
---

ERGONOMIC STRATEGIES PREVENT MUSCULOSKELETAL STRAINS, STRESS
Say the word "ergonomics" and what comes to mind may be various tools and devices that help to keep workers from getting injured: a back or wrist brace, a specially designed chair, or a custom lighting fixture. Ergonomics encompasses these tools and more because it is the scientific study of work and how it may affect the human body.
Ergonomic injuries (commonly referred to as musculoskeletal disorders or MSDs) are tied to repetitive tasks, the overuse of muscles and bad posture when working. To overcome these problems, employers may want to consider "designing" the pain out of repeated tasks, analyzing work spaces, and other equipment and controls to more closely align with an employee's physical capabilities and limitations.
Work stations that are ergonomically designed may help employers reduce incidents of back and shoulder strain among workers. Here are some tips:
• Look for work stations that are designed with spring-leveling carts and elevating tables, which would place objects at waist level for lifting.
• Adjust work areas to fit a worker's height
• Encourage workers to shift positions or get up and stretch periodically to relieve fatigue and strain on their backs.
• Consider the use of anti-fatigue floor mats to ease back pain.
Office workers and those in industrial jobs may suffer chronic strain in their shoulders and necks. Here are some suggestions to prevent shoulder and neck strain:
• Place a desk worker's telephone closer inside the work zone so they don't have to over reach to pick up the handset.
• Consider installing hands-free head sets for workers who will be required to spend a lot of time on the phone, as squeezing a handset between the ear and should can cause stress and neck pain.
• Static postures can cause stress, too; encourage workers to stand up occasionally from their desks to move around and stretch.
• For workers in a processing line, be aware of whether tall employees are stooping over or shorter employees are reaching improperly to perform tasks, as both static, focused postures can cause strain and stress.
• For workers who use hand tools, make sure tools are sharp so employees don't have to twist arms, necks and shoulders to complete cutting tasks.
About SCF Arizona
SCF Arizona is the state's largest workers' compensation insurance company. Founded in 1925, SCF provides coverage for more than 20,000 Arizona businesses and their employees. As a leading advocate of workplace safety, SCF is proactive in keeping Arizona's workers' compensation rates among the lowest in the nation. SCF is based in Phoenix and has a statewide presence. For more information about SCF Arizona, visit scfaz.com.