MONTHLY DINNER MEETING
Chaparral Country Club
1260 Mohave Drive
Bullhead City
Guest Speaker: A Member Favorite
This is an SCF Mandatory Meeting
Date: May 8th, 2013
Social Hour: 6:00pm
Dinner served at 6:30pm sharp! Cost is $15.00 per person
DID YOU KNOW???? — Bring 1 ream of paper for a FREE 50/50 Ticket! Donation benefits the Academy of Building Industries
*NEW* *NEW* *NEW* – RESERVE ONLINE
Please note: We pay for all meals ordered. Once you have made your reservation, you will be charged for your dinner even if you do not attend.
---
PRESIDENT'S LETTER

Well here we are once again. Another month has passed and what a horrible month it was. Terrorist bombing in Boston, fertilizer explosions in Texas, government trying to take our 2nd amendment rights away and on a personal note the passing of my oldest brother. Whenever we are forced to deal with these situations we always ask the same questions. Why? How? What can we do? And at the end of the day we are all a little sadder, a little madder and a little smarter. It's because of these situations that we focus on the future and adapt as much as we can to ensure a brighter and more prosper future for the next generations.
And speaking of the future….next month is our Board of Directors election. All positions are seeking nominations. If you would like to have a more active role in the association please let us know. Remember, if you're not there to vote you could be voted for. And as always the meetings are open to any current members who would like to attend.
How do you like our website? Did you know you can RSVP your dinner reservations by the click of a button now? And to make it even better, for every member that clicks on the RSVP button and confirms a dinner reservation will be entered into a special drawing for a free dinner the following month. What deal! We need more to register this way so we can eliminate the phone calls, and for those of you that have had to make the calls it's not very fun. Another idea we had is who ever wins the 50/50 gets to make the dinner calls. We might have to look into that in the future if we can't get enough of you to register on-line.
And you better register right away because seating will be limited for this months special guest speaker. We have had him there on numerous occasions and he is always a member favorite. Can you guess who it is? Yes, you guessed right, so I don't need to mention his name. For those of you who are participating in SCF, this is a mandatory meeting and we have to report if you attend or not. So please attend and bring an employee also.
I look forward to seeing you all on May 8th.
President Rick Bastyr
---




Visit mvcaaz.org to view our animated ads!
Advertising opportunities are available on our MVCA website. Rates: $25.00 per month; $300.00 per year. Ad size: 125×125. Supply your ad, or one can be designed for you. For more details, contact a board member today.
---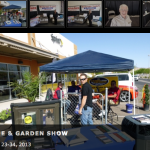 Visit our GALLERY page with photos from our 2013 Home & Garden Show!
If you have photos you would like included on our website, please email them to atrre@ctaz.com. Thank you!
---
BOARD LUNCH MEETING – April 9, 2013
Call to Order
The regular meeting of the Board of Directors was held on Tuesday April 9, 2013, at Scooters, 2750 Miracle Mile, Bullhead City, AZ. The meeting was called to order at 11:48 a.m., by President Rick Bastyr.
Attendees
President Rick Bastyr, Vice President Larry Adams, Treasurer Steven Bouman, Secretary John Caponetto, Directors Darryl Connella, Don Grasse, Catherine Lopez-Rajaniemi, Steve Ramsey, and Kim Camacho.
Minutes
President Bastyr asked if everyone had read last month's Minutes, and if so, would like a motion to approve the Minutes. Director Connella made a motion for approval of the Minutes. Director Ramsey seconded the motion. All were in favor of the motion. Motion passed.
Treasurer's Report
Treasurer Bouman reported on the current Treasurer's Finance Report. President Bastyr asked for a motion to approve the Treasurer's Report. Vice President Adams made a motion to approve the Treasurer's Report, seconded by Director Camacho. All were in favor of the motion. Motion approved.
Old Business
Vice President Adams talked about the Economic Recovery Committee and that it will continue. It was discussed that the Mohave Chamber of Commerce will not be invited to be part of this Committee. He also said that they would like to send a letter to Mayor Jack Hakim asking him to appoint someone to represent the City for this Committee.
Vice President Adams also reported on the City's Section 12 plans. He said that the City is waiting to see if BLM will approve the developers agreement between the City and Land Liquidators LLC for Section 12. He showed the first map that had been agreed upon that showed mostly recreational use, and the newest map that was totally different and showed "mixed" use, like for condos and commercial use, rather than for recreational use like more boat docks and launch ramps. He also discussed that they also wanted to tear down the Chamber of Commerce building and move the Chamber of Commerce elsewhere. The Chamber building and the park are part of Section 12 and they are both held under a separate BLM lease for" Recreation and Public Purpose". This lease cannot be used for commercial purposes. Part of the park is on a Concession lease.
Vice President Adams showed the Board Members the page that will be sent to the Retirement Magazine – Where to Retire. Discussion was held regarding this page and it was agreed to have the Mohave Valley Contractors Association's website listed and not the City's website.
Trade Show
The Mohave Valley Contractors Association made a profit of $900 from the trade show. It was felt that everyone enjoyed it and many benefited from it. From the profit of $900, it was agreed upon to pay $75 to Michael Paul to pay for the BBQ Grill that was used for the raffle. Vice President Adams said it was well done and put together well. President Bastyr said that a promoter wants to do a Trade Show in Laughlin next year and asked that we do not do one. Everyone on the Board said no and we will have our own Trade Show next year. We will probably do it sometime in March again. Lowe's said they will be our sponsor as long as we have a Trade Show. They really enjoyed the experience
New Business
A discussion was held regarding the TV2 show of March 27th, where Jim Zaborsky took the initiative to slam the Mohave Valley Contractors Association for not voting for the City's 1% sales tax. It was mentioned that Village Construction is not a member of the Mohave Valley Contractors Association. After input from the Board Members, it was decided to drop it and do nothing, as everyone agreed that he made himself look bad.
President Bastyr reported to the Board regarding Bullhead Solar and that they had voluntarily withdrew their license. He has had a lot of serious alleged problems . He is a member of the Mohave Valley Contractors Association and his membership is current. It was decided to wait until after his court dates before doing anything regarding his ethics.
President Bastyr reported that Elections is coming up and if anyone had suggestions for nominations.
Secretary Caponetto was concerned about members being in our website and some on the website not being members. Also, so far he has only 24 members that RSVPed for the dinner tomorrow night.
Motion to Adjourn
President Bastyr asked for a motion to adjourn. Director Ramsey made a motion to adjourn and it was seconded by Director Connella. All were in favor. Motion passed. Meeting adjourned at 12:55 p.m.
Respectively submitted by
Laura L. Harrison
April 9, 2013
---
5,000 of the "Moving to Bullhead City" brochures were inserted into the May 2013 Issue of Around The River Real Estate magazine® for distribution in southern California's Inland Empire. The cost of this insertion project was personally funded by MVCA Vice President Larry Adams.